First, the Good News...
Biodiesel production in America is increasing exponentially each year. In 1995 biodiesel production was at a minimum. In 2005 it got up to 75 million gallons per year. In 2006 production tripled to 225 million gallons per year. Now with over 100 biodiesel plants across the country, biodiesel fuel is available in every state.
Conscious Consumers will Create the Demand for Change
All it takes is a standard diesel engine. Many US and foriegn car manufacturers produce diesel-engine vehicles. The concious consumer can create demand that can change the tides from the use of petroleum to alternative, more sustainable solutions.
Find an Alternative Fuel Station in Your Area
The US Department of Energy provides a database of refueling stations offering alternative fuels all over the United States.

US Department of Energy's Alternative Fuel Station Locator
http://afdcmap2.nrel.gov/locator/FindPane.asp
We proudly support the SBA.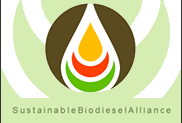 The Sustainable Biodiesel Alliance is a non-profit organization created to promote sustainable biodiesel practices, including the harvesting, production and distribution of biodiesel fuels.